A Belgian shoemaker named De Groof built a combination parachute / flapping wings device, shown below, which was even less successful than Degen's design I mentioned last week. In 1874 he was hauled up to a height of 1000 feet by a hot air balloon, and would you believe he came down safely?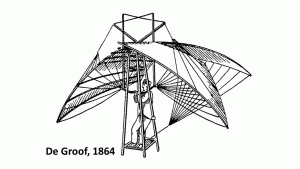 It's true, he did, but only because he never actually cut loose, and instead remained tethered to the balloon the whole time. So it was more of a dangle than a flight demonstration
A month later, he did detach from the balloon, which in hindsight was a bad idea. His wings instantly collapsed into a vertical position and he fell like a brick to his death.
In his book Progress in Flying Machines, Octave Chanute points out that De Groof might have survived if the wings had maintained their position instead of folding. He then points out that "a few prior experiments with a bag of sand instead of the man" would have revealed the design flaw and saved his life.
LESSON: Not sure the design will work? Figure out a way to test it where a failure won't be fatal. Like, maybe using a mannequin or sandbag instead of a real person.