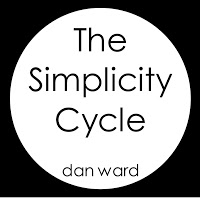 In 2005, as a Christmas present to my two daughters, I wrote a short fiction/fantasy/adventure novel and self-published it at Lulu.com. The experience of self-publishing was so easy and fun that I wrote 5 more short novels as presents for the next five Christmases. Note that I didn't say the writing part was easy. Just the publishing.
In the back of my mind, I thought maybe I could write a book for grownups someday too. The funny thing is despite my suspicion that there was more to be said on the topic of the Simplicity Cycle, writing a whole book about it wasn't my idea. It was Dan Pink who suggested it.
Here's how that happened. In response to his 2006 book A Whole New Mind , I sent him a link to the Simplicity Cycle Manifesto, version 1.0 (see last week's post). He was kind enough to write back and he said something that caught me off guard: "One writer to another, you may want to reserve simplicitycycle.com, just in case you decide to write a book someday."
Huh. I had ho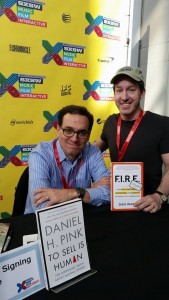 nestly not thought about that yet.
I should admit I didn't actually reserve the domain until 2015 (I have no excuse whatsoever except that I can be stupidly cheap sometimes), but I almost immediately got to work on a longer treatment of the concept. I copied the format from the Mr. Men / Little Miss books, which my kids loved. It took a while, but I eventually came up with a book-like product.  more about that and the format in future posts.
In March of 2015, much to my excitement, I was able to thank Mr. Pink in person when we met at SXSW.