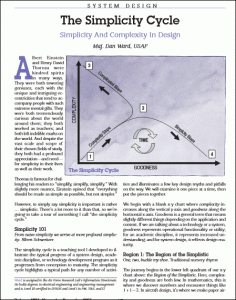 I started thinking about simplicity, complexity, goodness, and design in 2002. It took a while before these thoughts were ready to share.
The first public mention of The Simplicity Cycle was in an article for Defense AT&L magazine. It was Nov 2005 and I was now a Major in the Air Force, assigned to the Air Force Research Lab in Rome NY.
Before publishing the article, I hashed through it with my little group of un-indicted co-conspirators. We called ourselves Project Blue Lynx, a nerdy play-on-words for the "blue links" on websites and HTML documents. This handful of creative, energetic, and generous friends helped me think through the layout, test out the concept, and identify a few gaps that needed to be filled.
I don't recall that the article got much attention right away. I definitely recall thinking there was more to be said about it. I recall feeling like I had more writing to do. While this was just my latest in a long series of articles on a wide variety of topics, and while it didn't make the same splash some other articles had made, I was pretty sure I hadn't seen the last of this idea.
How about you? Got an idea kicking around in a notebook somewhere? Have you tried writing an article about it, a short treatment of the concept's basic elements? There are precisely a kajillion outlets out there (I counted every single one), hungry for new content and ready to share your article with the world. Actually, counting your own blog (super easy to create!), there are a kajillion and one. But the first step is to actually write the article.
NEXT WEEK: The Manifesto!