F.I.R.E. How Fast, Inexpensive, Restrained, and Elegant Methods Ignite Innovation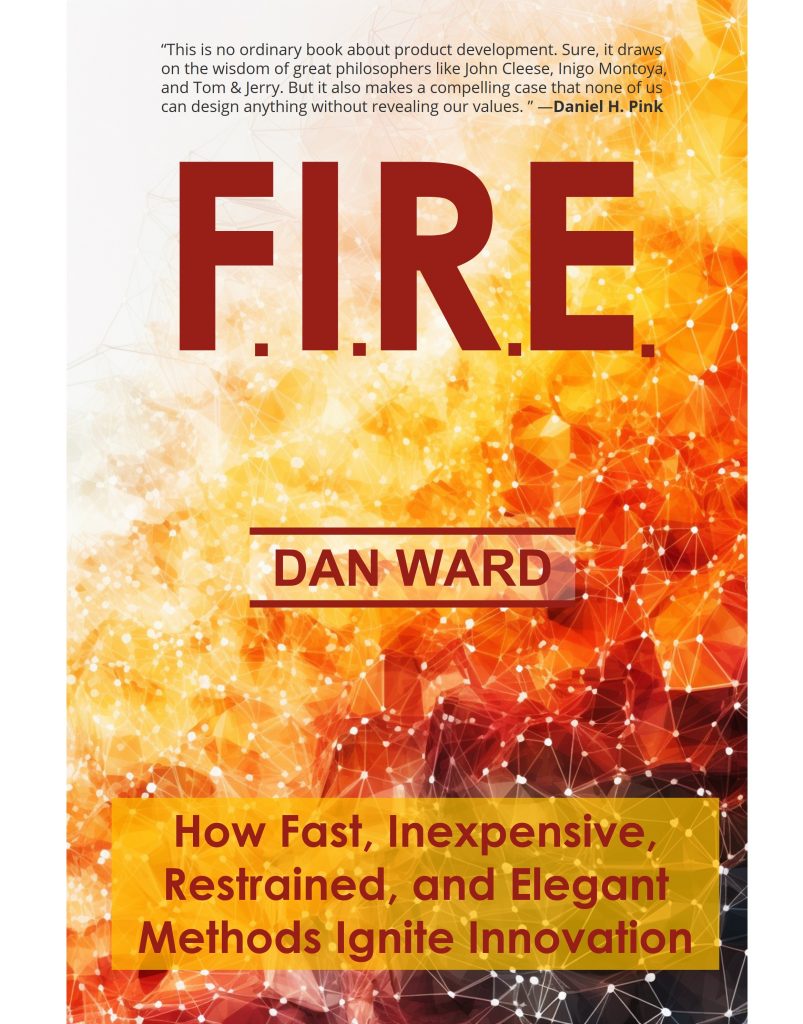 How Fast, Inexpensive, Restrained, and Elegant Methods Ignite Innovation
Why do some programs deliver their product under cost, while others bust their budget? Why do some deliver ahead of schedule, while others experience endless delays? Which products work better—the quick and thrifty or the slow and expensive? Which situation leads to superior equipment?
The most successful project leaders in both the public and private sectors deliver top-shelf products with a skeleton crew, a shoestring budget, and a cannonball schedule. Excessive investment of time, money, or complexity actually reduced innovation. The secret to innovation? Be fast, inexpensive, simple, and restrained.
F.I.R.E. presents an entertaining and practical framework for pursuing rapid, frugal innovation. A story-filled blend of pop culture and engineering insight, F.I.R.E. has something for everyone: strategic concepts leaders can use as they cast a vision, actionable principles for managers as they make business decisions, and practical tools for workers as they design, build, assess and test new products.
2023 Edition available at Amazon (print and Kindle versions)
Reviews and Praise
This thought-provoking book, developed with a military perspective, offers valuable insight for those striving for innovation in their business activities. —Mary Whaley, Booklist
"F.I.R.E. will appeal to project managers, space enthusiasts, military and tech buffs, and anyone who's ever hired a plumber or general contractor." —Success Magazine
"This is no ordinary book about product development. Sure, it draws on the wisdom of great philosophers like John Cleese, Inigo Montoya, and Tom & Jerry. But it also makes a compelling case that none of us can design anything without revealing our values. " —Daniel H. Pink, author of TO SELL IS HUMAN, DRIVE, and A WHOLE NEW MIND
"Dan's refreshing philosophy promotes more effective defense acquisition and offers lessons for commercial products as well. His book helps to liberate good judgment…" —Bernard Jenkin MP (Harwich and North Essex) Chairman, PASC (Public Administration Select Committee)
"Ward blends a maestro's range of intriguing stories with intensely practical guidance. Don't let the references to Mr. Bean, Quantum Leap, and Firefly fool you. FIRE is a deep and powerful contribution to the innovation literature." —Scott Anthony, author of The Little Black Book of Innovation
"Dan Ward's FIRE is a minor miracle: a fast, fun, _funny_ read on running procurement and technical processes. It is packed with insight, cutting through common wisdom to deliver rules of thumb that should be a must read for any project manager." —Dr. Rachel Kleinfeld, Founder – Truman National Security Project
"For decades we have paid more and more for defense technology and gotten less and less in return. Dan Ward's FIRE approach establishes common sense principles with great promise–if we will only apply them." —MajGen Arnold Punaro, USMC (ret.), Chairman of the National Defense Industrial Association and member of the Defense Business Board